ONLINE PROGRAMS

.E-Learning Programs (Due Fall 2011)

Online training courses include introductories to the listed titles and enhanced techniques addressing topics specific to your organization.  Subjects can be learned effectively with time for notetaking, and each course includes a training manual that can be mailed or downloaded prior to the seminar.  Training programs are also available for on-site presentations by contacting T&J for scheduling and fees.  Topics include workplace issues such as those cited below or specific workplace behavior you wish to address.  Audience levels are:

Beginners:  No prior experience required.

Intermediate:  Some training required with new information to be shared.

Advanced:  Experienced professionals.

Online Informational Papers


Web Site Development and Maintenance

Develop your company's online presence with a promotional website to create interest in your products and/or services.  Our website services include design and/or maintenance for uploads to your website server or management by T&J Associates.  Following are professional websites designed by T&J:  Examples of personal website designs can be viewed by contacting T&J.


Training Manuals - Upon Request!

Workbooks created to complement online training courses, as well as for general information.  Each workbook complements specific seminars and allows for notetaking.  Although training manuals are included in E-Learning fees, they may be downloaded at a separate cost under Informational Papers above.

Affirmative Action Facts & Myths

Need help with a class paper or debate or a speech on affirmative action?  This white paper is your first step for it provides the novice with highlights of affirmative action, pros and cons, as well as resources for in depth education or training.  It offers excerpts on the legal, political as well as social opinions on affirmative action and the laws it covers as well as when it must be applied legally or as a "good faith" effort.



10 pages


$19.00


07001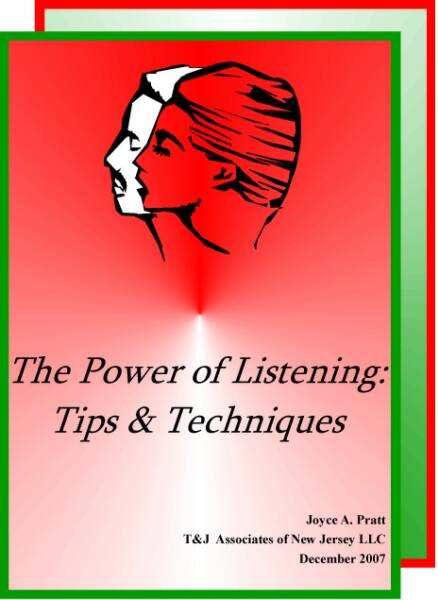 The Power of Listening:  Tips & Techniques

Listening is as powerful a means of communication and influence as speaking adequately.  One can neither lead nor follow well without an effective two-way communication system -- expressing and listening.  The goal of this white paper is to empower the reader with alternative tips, techniques, and resources to become an effective listener.


7 pages


  $19.00


07002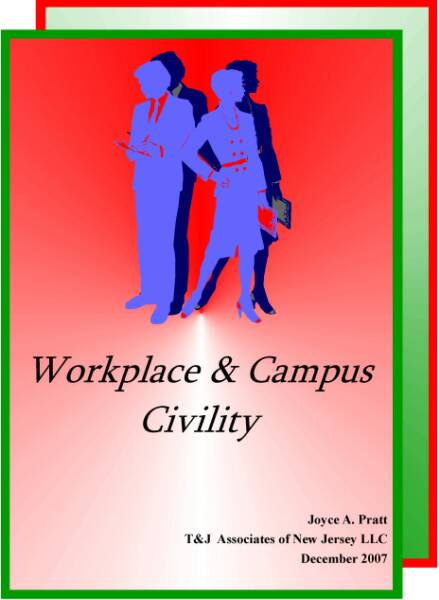 Workplace & Campus Civility

Incivility interferes with production, destroys workplace relationships, and thus hinders company profitability.  It also obstructs teaching and learning in school, thus limiting students' ability to perform at their best.  Incivility costs money, quality, and well being at best; or someone's health or even life, at worst.  Methods to reduce the impact of incivility shared in this paper includes a unique format to assess one's current civility quotient.


11 pages

     $19.00


07003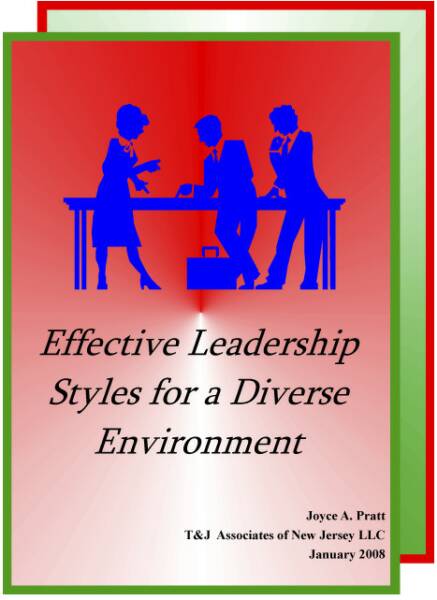 Effective Leadership Styles for a Diverse Environment

In an effort to define leadership, three major schools of thought developed during the past century.  Today, leaders approach the situation as well as the behavior.  This paper provides a leadership self-assessment and discusses current techniques and behavior types.  Thus enabling leaders, or soon to be leaders, to acknowledge their leadership styles and comfort zones and use one or more combined styles to influence others to work towards set goals.

   10 pages

       $19.00


07004